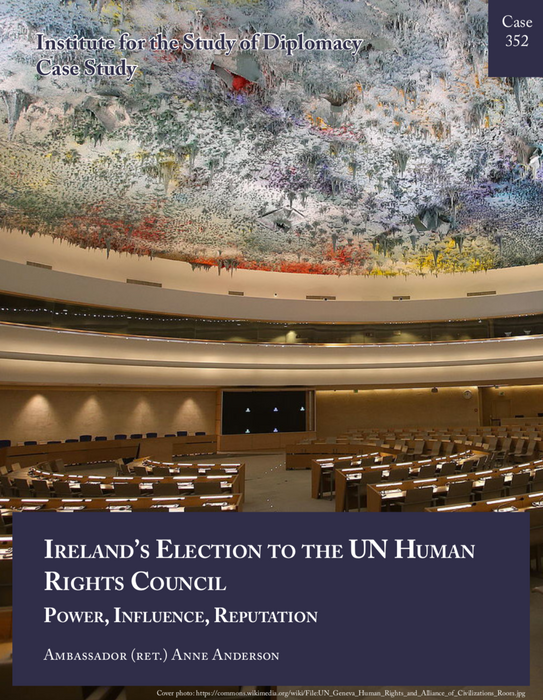 Case 352 - Ireland's Election to the UN Human Rights Council: Power, Influence, Reputation
by Institute for the Study of Diplomacy at Georgetown University
Anne Anderson
Elections to UN bodies provide an important window into the work of the world's largest and most important international organization. This case examines the role of a comparatively small state, Ireland, and its successful election to the UN Human Rights Council in November 2012.
The case begins with background on the role of elections at the United Nations, both for the Human Rights Council and the Security Council. While elections to the Security Council traditionally attract the most attention, the Human Rights Council is an increasingly important venue for electoral competition among member states, and a site of significant controversies. This increasing importance also highlights that the United Nations, despite its size and mammoth bureaucracy, is far from a static organization. Therefore, this case enables students to consider changes in the UN over time—as well as prospects for future reform—through the lens of UN election processes, mechanisms, and resources.
The case's discussion of the resources required to succeed in UN elections provides a practitioner's insight into the nuts and bolts of day-to-day campaigns for seats on UN bodies, and the ways in which diplomats' choices are constrained by the resources made available to them by their capitals. In addition to the perennial question of UN Security Council reform, instructors may also wish to use this case study to explore questions of legitimacy and hypocrisy at the Human Rights Council, and criticisms that the Council provides a platform for a rogues' gallery of human rights abusers to undermine the UN's values.