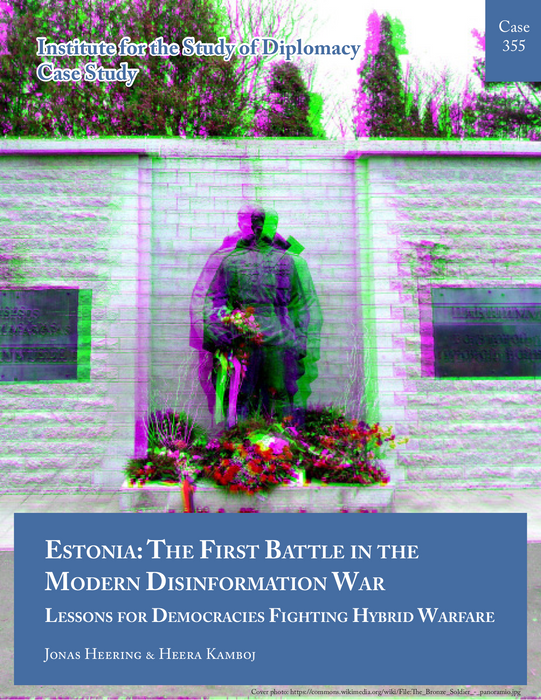 Case 355 - Estonia: The First Battle in the Modern Disinformation War - Lessons for Democracies Fighting Hybrid Warfare
by Institute for the Study of Diplomacy at Georgetown University
Jonas Heering and Heera Kamboj
On the night of April 26, 2007, riots erupted in Tallinn, the capital of Estonia.
Groups consisting largely of ethnic Russians, who make up approximately one third of Tallinn's population, protested in the streets, clashed with police forces, and looted and destroyed stores. 
Two days later, once the violence subsided, one person had died, more than 150 people were injured, and 1,000 individuals were detained.
Protesters took to the streets in response to the Estonian government's announcement that it would move the statue of the "Bronze Soldier"—a Soviet war memorial—from Tallinn's city center to a military cemetery in the suburbs. For ethnic Russians living in Tallinn, the Bronze Soldier served as a symbol of supposed "Soviet liberation"; for ethnic Estonians, it was a reminder of decades of Soviet oppression.
The riots were fueled by false reports in Russian-language media outlets, which claimed that the statue, as well as several Soviet military graves, had been destroyed. And, as the protests waned, Estonia became the target of a series of cyber attacks from Russian Internet Protocol (IP) addresses that brought down most of the country's digital infrastructure, from government websites to online banking systems and digital news media. The cyber attacks lasted more than three weeks, until the Estonian government decided to essentially shut down the internet to foreign users.
As a target of this combination of cyber attacks and influence operations, Estonia became one of the first victims of what has been described as a new form of Russian hybrid warfare—a core element of which involves the dissemination of disinformation.
This case study explores the events, aftermath, and policy responses to events in 2007, and puts the episode in context of the modern fight against disinformation.